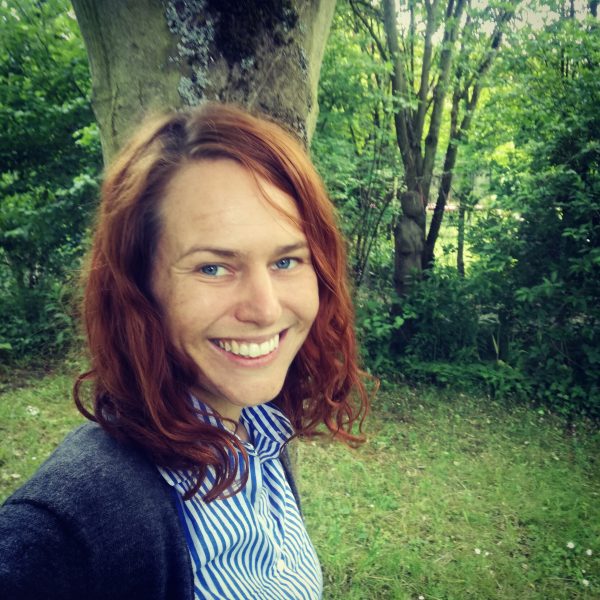 is a social and cultural anthropologist, and a political and historical scientist. After her studies at Istanbul Technique University and at Ruprecht Karls University in Heidelberg, she worked as an research associate at the study program "Metropolitan Cultures" at HafenCity University in Hamburg before she came to Frankfurt. Since January 2017 she has been working in the Institute of Cultural Anthropology and European Ethnology at Goethe University Frankfurt am Main. Her research interests include (critical) infrastructure studies, new materialism, critical urban studies, the anthropology of environment, naturecultures, and posthumanism. Her geographical interests focus on Cambodia, Turkey, Europe, and Tibet.
Publications
Core Publications
Eitel, K. (forthc. in 2021). Recycling Infrastructures in Cambodia. Circularity, Waste, and Platform Politics in the Urbans of Phnom Penh. London/New York: Routledge. 
Eitel, K. (2021). Waste Fantasies: Challenging Prevailing Notions of Waste, or How to Reclaim Political Land. In: Network for Contemporary Anthropological Theory.
Eitel, K., with M. Meurer (eds.) (2021). Ecological Ontologies. Approaching Human-Environmental Engagements. Berliner Blätter: 84 (1).
Eitel, K. (2020). PlastiCorona: Who Cares About That Waste? In: Social Anthropology 28 (2), 261–262. 
Eitel, K. (2019). Reflexivität als Prinzip. Für eine Ökologie des Forschens und über die methodologische Anschlussfähigkeit an eine Soziale Ökologie. In: Sattlegger, L./ Deppisch, L./ Rudolfi, M. (Hrsg.): Methoden umweltsoziologischer Forschung. Band zur 11. Tagung der Nachwuchsgruppe Umweltsoziologie. ISOE-Materialien Soziale Ökologie, Frankfurt am Main: 30-44. ISSN: 1614-8193
Eitel, K. (2019). [Waste×] Matter in and out the Place: a Story about Wastefulness, Hybridity, and Flows of Plastic. In: Journal für Entwicklungspolitik, Müll und Globalisierte Ungleichheiten, XXXV (2): 166 – 194.
Most recent
Eitel, K., Otto, L. K., Klausner, M., and G. Welz (2021). Doing Interventions: Experiments and Collaborations in Contemporary Ethnography. Kulturanthropologie Notizen 83, 2-13.
Eitel, K. (2021). Oozing Matters. The Infrastructure of 'Waste Management' in Phnom Penh and Emergent Naturecultures. In: Casper Bruun Jensen (ed.), Material Itineraries. Journal for East Asian Science & Technology Studies 15 (2), 135-152.
Eitel, K., and M. Meurer (2021). Introduction. Exploring Multifarious Worlds and the Political Within the Ontological Turn(s). In: Michaela Meurer and Kathrin Eitel (eds.) Ecological Ontologies. Approaching Human-Environmental Engagements. Berliner Blätter: 84 (1): 3-20.
Eitel, K. (2020). Respondenz Abschnitt 4: Don't paint it black! Zur Reflexivität und (Un-)Sichtbarkeit epistemischer Praktiken im Umfeld Mensch-Maschine. In: Eckhard Geitz, Christian Vater & Silke Zimmer-Merkle (eds.), Black Boxes – Versiegelungskontexte und Öffnungsversuche: Interdisziplinäre Perspektiven. Berlin: De Gruyter, 351–379.
Research
The infrastructure of waste picking. Daily practices of waste pickers and recyclable waste in the metabolism of the city Phnom Penh, Cambodia (PhD project)

Kathrin Eitel's PhD project deals with the topic of waste handling in the urban area of Phnom Penh, Cambodia. Here she mainly focuses on waste pickers, looping around in streets and picking up waste, which they then further distribute to agents in different positions within the value chain. They can be described as the infrastructure of recyclable waste handling in the city, due to a lack of "formal" establishments and are a part of Phnom Penh's city image, part of materiality and part of natures in the city. The project questions the materiality and formality of an infrastructure per se, and puts the focus on the visibility and invisibility of the agents being the infrastructure. The ethnographic projects opens out into a critical perspective of infrastructure studies. 

The PhD project, therefore, examines the metabolism on waste in the city, with particular regard to different interests agents have and, secondly, with a focus on the paths and arrangements followed by waste. Waste must be understood as something material, fluid and dynamic, varying in its form and materiality. It also arranges collaborations, where it enacts – in conjunction with others – diverse forms of naturcultures and undefinable and ungraspable pieces of an environmental moment, which might vanish or changed immediately into something else or become part of the city's materiality. Within these arrangements, the research aims to show metabolic flows of waste in the city and, at the same time, unfold the multiplicity of the ontology of waste. 

Empirical data collection was conducted between 2016 and 2018 in multiple small field trips of several months each. In addition to interviews conducted during this time with waste pickers, representatives of political and governmental institutions and from civil society initiatives, Eitel collected data through participant observation and following-the-waste-methods.